One of the most commonly affected areas in the ageing process apart from the face and neck, is the hands. Dermal filler treatments are the ideal solution to improve skin quality and texture and to restore a youthful appearance to the hands.
Complimentary Consultation
hand rejuvenation treatment london
As we age, our skin loses its natural elasticity, causing wrinkles and fine lines to appear.  This, along with sun exposure, free radicals, genetics and other lifestyle factors can affect the appearance of the skin. Our skin's natural collagen also reduces with age leading to a loss in volume.
Dermal fillers are highly effective in the treatment of a veiny appearance, making them appear less prominent. 
The very best products
At London Real Skin we utilise JUVEDERM®- the number 1 doctor-recommended Dermal facial filler in the UK, and which contains hyaluronic acid; a natural occurring substance in the body that retains moisture to boost hydration and elasticity.These gel-like substances are injected beneath the skin and come in different formulations suitable for specific areas being treated. We also make use of Restylane® fillers, which is a widely popular Dermal filler treatment, and like Juverderm is safe and effective in rejuvenating and revatilising the skin. Our Aesthetic Nurses and Doctors will recommend a facial filler dependent on the area being treated and what will be most suitable for your skin needs.
Other suitable treatments to treat the hands include CQC-approved laser treatments such as AFT, Dye-VL and Clearlift.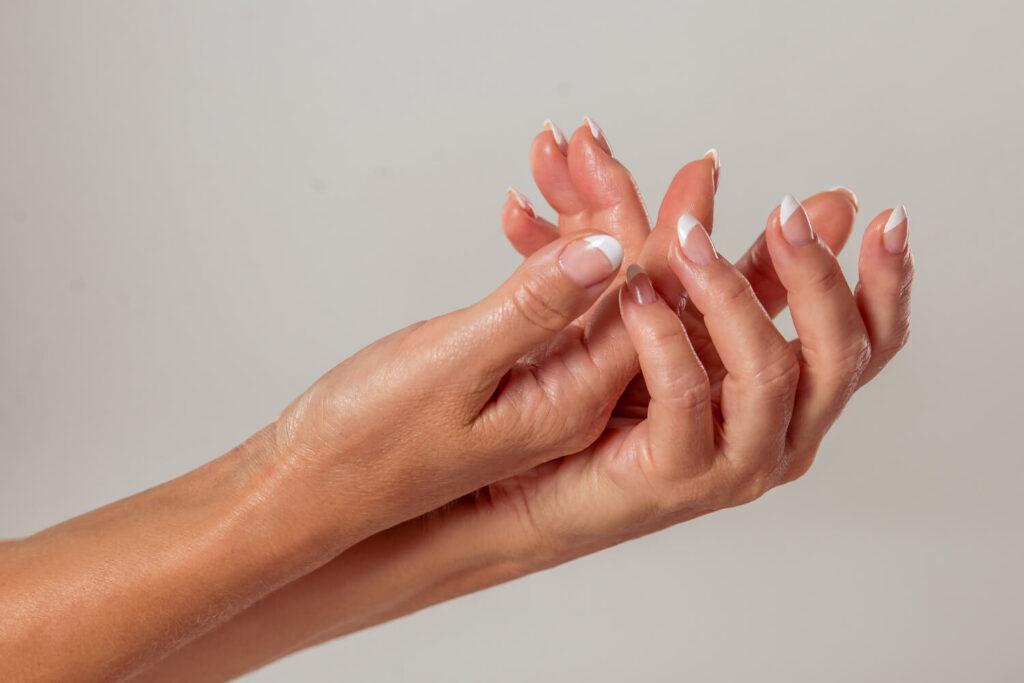 What are the benefits of dermal filler injections? 
Our Dermal Fillers are administered quickly & offer immediate results with little to no downtime. 

Our dermal filler brands are FDA approved with excellent clinical data supporting their use and effectiveness. 

Hyaluronic acid injections are temporary and completely reversible. If for any reason, you are not completely satisfied with the results, your Aesthetic practitioner will advise you and can inject an antidote to dissolve the unwanted filler, restoring you to your natural appearance.

All dermal filler treatments are administered by highly skilled Nurses and Doctors who are trained in anatomy and deeply understand good skin health. 

The results are noticeable and yet appear natural-looking and subtle. 

The effects of the filler last from 12 months to 2 years depending on the type and concentration of the filler used. 

Dermal filler injections are non-surgical and are typically carried out during a clinic visit. 

Our patients consider the treatment as generally painless, only experiencing a mild level of discomfort 

A complimentary in-depth skin scanning analysis will be carried out prior to having a treatment done to be able to discuss your treatment goals and advise a bespoke treatment plan. 

There is also now evidence to suggest that filling wrinkles causes stretching of the skin back to its previous structure and can induce some repair of the tissue.
Treatment at a Glance
Duration
30 Minutes
Frequency
1 treatment every 6-12 months 
Downtime
Minimal 
Results
Immediate
Suitable For
Most Skin Types
Pricing
Starts from £350 for the first syringe
Cheek Enhancement

From £550

Non-Surgical Rhinoplasty

From £550

Lip Enhancement

From £375

Chin Enhancement

From £550

Jaw Enhancement

From £1050

Nasiolabial Lines

From £450

Marianette Lines

From £450

Non-Surgical 8 Point Face Lift

From £1550

Horizontal Neck Line

From £450
I have been seeing Vanessa for many years now regarding my Botox to treat the wrinkles on my forehead and dermal filler treatment to enhance my cheeks. She is also brilliant for lips injection and non surgical rhinoplasty. Vanessa always takes the time to listen to my concerns and the results she achieves are very natural and always on point. I would highly recommend her to anyone who is looking to receive cosmetic injectables treatments.
Isla
Frequently Asked Questions