Age spots, sun damage and pigmentation concerns can be treated effectively with laser treatment. At London Real Skin we use AFT (Advanced Fluorescence Technology) which is the next generation of Intense Pulsed Light (IPL) laser treatment technology.
Complimentary Consultation
Age Spots treatment london
Age spots are flat brown, gray, or black spots that appear on the skin. They usually occur on sun-exposed areas, such as the face, hands, shoulders, chest and upper back. Age spots can also be referred to as liver spots, senile lentigo, solar lentigines, or sun spots.
They are the result of an excess production of melanin, or skin pigment. Skin aging, sun exposure, and other forms of UV light exposure, such as tanning beds, are all possible causes. Although true age spots are harmless to our health, many patients visit our Clinic to discuss suitable options in treating the spots to boost their self confidence.
AFT laser treatment has proven to successfully break down the age spots, and revitalise the skin with the stimulated production of collagen and elastin.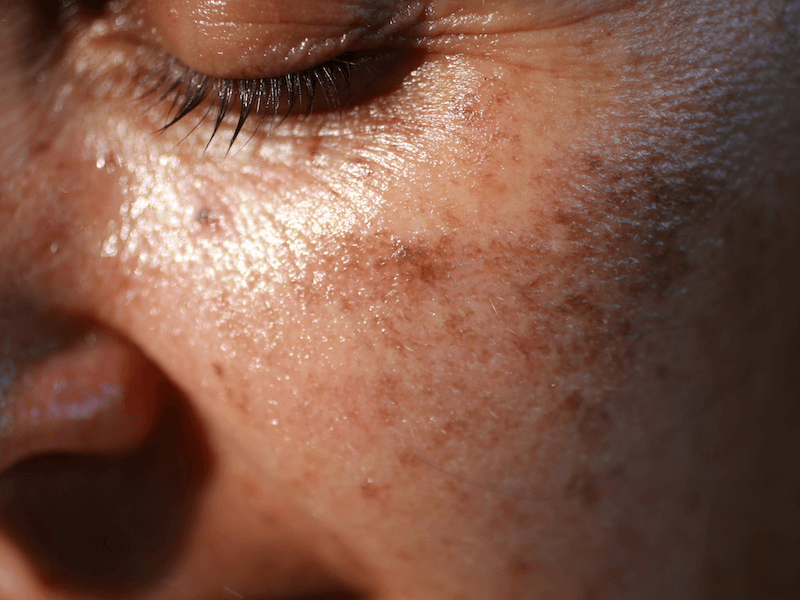 What are the benefits of the AFT laser treatment? 
The Harmony® AFT pulsed light technology is a

virtually painless treatment

. Some patients have said to experience only a mild level of

discomfort 

The treatment is quick with usually minimal downtime

Immediately after the treatment the spots will appear much darker. This is completely normal and part of the process. After a few days, the pigmentation will come up to the surface of the skin and can present itself in small pinpoint scabs which will soon fade away with the body's natural shredding process. As a result, the skin will appear clearer and refreshed and free of age spots with an improved skin texture. This will usually take place within a week, but varies from patient to patient. 

All AFT laser treatments are administered by highly skilled Aesthic Practitioners who are trained in facial anatomy and deeply understand good skin health.

The effects of the treatment can last up to a year, provided you follow a skin care regime, and avoid sun exposure.

A complimentary in-depth skin scanning analysis will be carried out prior to having a treatment done to be able to discuss your treatment goals and advise a bespoke treatment plan.
Treatment at a Glance
Duration 
30 mins
Frequency 
3-6 Treatments every 2-3 weeks
Downtime
Minimal
Conditions Treated
Spots (Sun, Liver, Age)
Lentigine
Pigmented lesions
Freckles
Results Visible
After 1 week
Pricing
Starts from £100 for a small area.
Before
After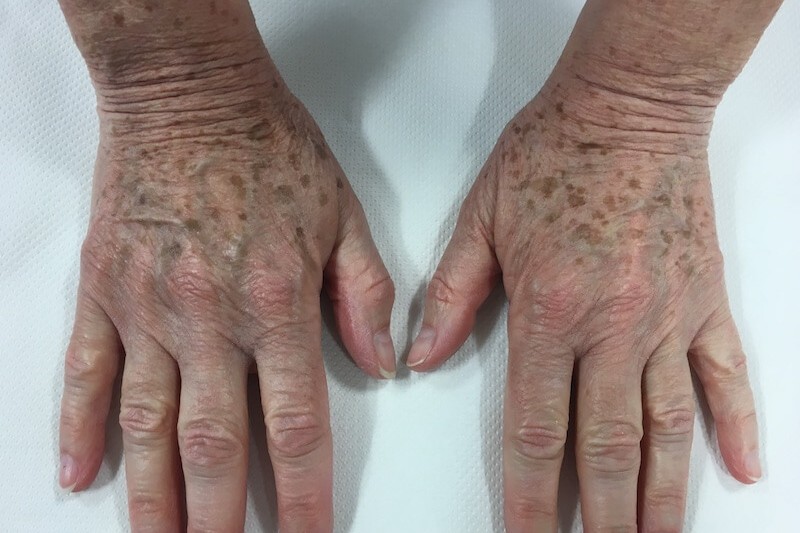 My experience at London Real Skin has been excellent. I was taken care of by the expert team and I can confidently recommend all the team of the clinic and their products.
Elaine, 2021
Frequently Asked Questions
The Harmony® AFT laser is FDA approved. All treatments at London Real Skin are hand selected by consultant Dermatologist Dr Wade, and our medical director, who carefully assesses clinical studies and evidence of the treatment's effectiveness and safety prior to offering them in Clinic. 
One of our expert Aesthetic Practitioners will examine your skin and determine if you are suitable for this procedure. We offer a complimentary Observ 520 Skin Analysis in all of our bespoke Skin Consultations. This modern technology is safe, proven and effective and provides our patients with a visual understanding of the deeper layers of their skin. Photographs will be taken before the procedure to compare the results post-treatment and to monitor the progress. 
The skin will be cleansed with an antiseptic solution and a cooling gel will be applied onto the skin. 
Patients have reported a warm sharp sensation to the skin during the treatment with a mild level of discomfort but that is it generally painless.
The following aftercare is recommended to improve the treatment results and to minimise side-effects from the treatment:
The application of a cool pack during the first few hours after treatment will reduce any discomfort.
Apply only Biafine or aloe vera gel (without alcohol) to the treated area
Makeup may be used immediately after the treatment unless there is epidermal blistering. (Preferably mineral make up)
Avoid sun exposure to reduce the chance of hyperpigmentation or darker pigmentation. Use sunscreen SPF50+ or greater at all times throughout the course of treatment.
Avoid swimming until the treated area is fully healed
Avoid hot baths, heat treatments and exercise for the first 48 hours
Avoid using retinoids for 2 days before treatment and 7 days post treatment
Immediately after treatment, there may be redness and swelling at the treatment area, this may feel like mild sunburn. If pigment is present, it will become darker and form a pin point scab. This is a normal effect of treatment. Swelling can occur, especially on the cheek area but will reduce after time. We recommend sleeping with an extra pillow to help decrease swelling, and following a bespoke skincare plan that will be provided to you by our Aestshetic Practitioners.